CALIFORNIA: CRONOMETRO DA LEADER PER TEJAY VAN GARDEREN
Tappa e maglia per Tejay Van Garderen, nella quarta tappa dell'Amgen Tour of California. Inutile la difesa di Egan Bernal che paga 1'23" all'americano, nuovo leader della Generale.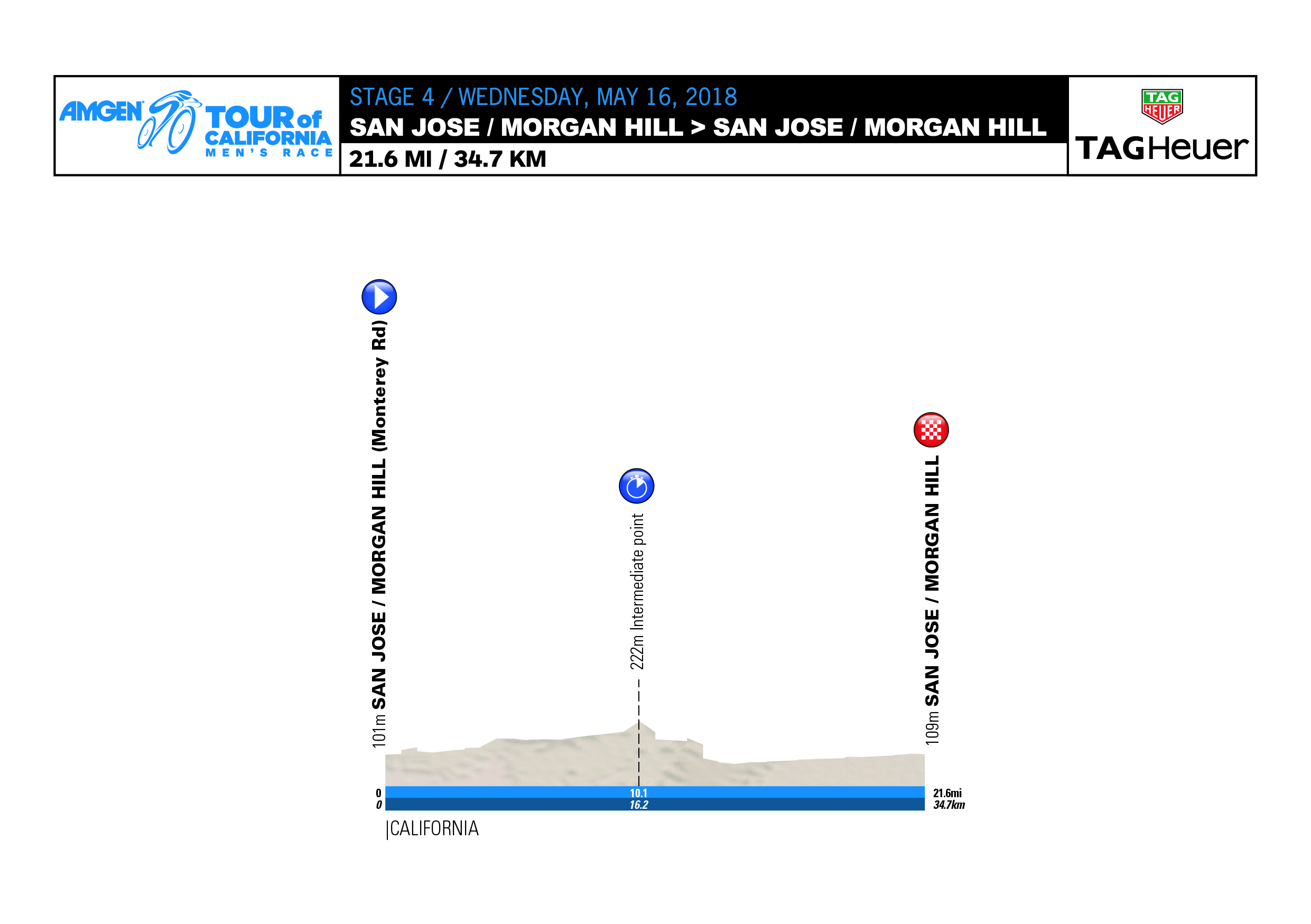 TeJay van Garderen è il nuovo leader della classifica generale dell'Amgen Tour of California. Il portacolori della BMC Racing Team ha primeggiato con il tempo di 40'47" nella tappa a cronometro di Morgan Hill, rifilando in 34.7 Km 7" al canadese nonché compagno di squadra Patrick Bevin, a lungo detentore del miglior tempo. Terza piazza per la sorpresa Tao Geoghegan Hart, con il giovane britannico del Team Sky ha chiuso con un tempo superiore di 37" rispetto a quello del vincitore. Il risultato gli ha permesso di guadagnare sette posizione nella generale, risalendo fino al 4° posto. Il suo compagno di formazione Egan Bernal, partito con le insegne del primato, ha chiuso con il tempo di 42'10" , un minuto e ventitre secondi più alto di quello di Tejay van Garderen, che lo ha sorpassato in classifica. Con il miglior tempo di giornata Tejay van Garderen ha, infatti, pure fatto un salto in avanti nella generale di sette posizioni, mentre ad essere retrocessi nei piai alti, oltre a Bernal, sono stati Adam Yates (Mitchelton-Scott) e Rafał Majka (Bora – Hansgrohe), Il britannico, gemello della attuale maglia rosa al Giro, ha lasciato sul terreno 1'36" perdendo 2 posizioni nella generale, mentre ancora peggio è andata al corridore polacco, che ha fatto registrare un tempo superiore a quello del vincitore di 2'04", con l conseguente retrocessione di quattro posti. Nel novero di avanzamenti e retrocessioni da segnalare anche le buone prove di Daniel Felipe Martínez ( EF Education First-Drapac, decimo di giornata e attualmente terzo in classifica con un guadagno di 3 posizioni), di Brandon McNulty (Rally Cycling, 24° e 7° nella generale, con 5 posizioni guadagnate), Laurens De Plus (Quick-Step Floors, 28° e 8° con 2 posizioni guadagnate), e, per restare nella topten, Brent Bookwalter (BMC, 12° e 10° con un salto in avanti di sette posizioni)
Per i colori italiani il migliore è stato Filippo Ganna (UAE-Team Emirates), che ha chiuso in 5a posizione percorrendo i 34.7km alla velocità media di 50 km/h e chiudendo a 41'36", mentre gli altri quattro azzurri in gara si sono piazzati lontani dalle piazze alte, collocandosi tra la 46a posizione di Daniel Oss (Bora – Hansgrohe) e la 68a di Edward Ravasi ( UAE-Team Emirates). Tuttavia, quest'ultimo si conferma il migliore dei nostri in classifica, 21° a 4′38″ da Van Garderen (8 posizione perde), che dopo la cronometro comanda con 23″ su Bernal e 37″su Martínez.
La tappa odierna, da Stockton a Elk Grove per 176.5 Km, dovrebbe richiamare sulla scena le ruote veloci e consigliare ai big intenzionati a giocarsi la supremazia nell'Amgen Tour of California una sorta di "pace armata", in attesa di tornare a sfidarsi nel tappone di South Lake Tahoe in programma nella notte (ore italiane) tra venerdì e sabato.
Per chi volesse seguire la quinta tappa in diretta, sarà trasmessa a partire dalle 23.00 da Eurosport.
@IlCiclismo.It/Mario Prato
ORDINE D'ARRIVO
1 Tejay van Garderen (USA) BMC Racing Team 0:40:47
2 Patrick Bevin (NZl) BMC Racing Team 0:00:07
3 Tao Geoghegan Hart (GBr) Team Sky 0:00:32
4 Lawson Craddock (USA) EF Education First-Drapac p/b Cannondale 0:00:46
5 Filippo Ganna (Ita) UAE Team Emirates 0:00:49
6 Mikkel Bjerg (Den) Hagens Berman Axeon 0:00:53
7 Jack Bauer (NZl) Mitchelton-Scott 0:00:55
8 Neilson Powless (USA) LottoNL-Jumbo 0:00:56
9 Maciej Bodnar (Pol) Bora-Hansgrohe 0:00:57
10 Daniel Martinez (Col) EF Education First-Drapac p/b Cannondale
11 Nils Politt (Ger) Katusha-Alpecin 0:00:59
12 Brent Bookwalter (USA) BMC Racing Team
13 Serghei Tvetcov (Rom) UnitedHealthcare Pro Cycling 0:01:00
14 Taylor Phinney (USA) EF Education First-Drapac p/b Cannondale 0:01:02
15 Michael Hepburn (Aus) Mitchelton-Scott 0:01:15
16 Pavel Sivakov (Rus) Team Sky 0:01:16
17 Nikias Arndt (Ger) Team Sunweb 0:01:19
18 Egan Bernal (Col) Team Sky 0:01:23
19 William Barta (USA) Hagens Berman Axeon 0:01:28
20 Joey Rosskopf (USA) BMC Racing Team 0:01:29
21 Evan Huffman (USA) Rally Cycling 0:01:34
22 Adam Yates (GBr) Mitchelton-Scott 0:01:36
23 Michael Schär (Swi) BMC Racing Team 0:01:41
24 Brandon McNulty (USA) Rally Cycling 0:01:43
25 Silvan Dillier (Swi) AG2R La Mondiale 0:01:49
26 Gavin Mannion (USA) UnitedHealthcare Pro Cycling
27 Reto Hollenstein (Swi) Katusha-Alpecin 0:01:56
28 Laurens De Plus (Bel) Quick-Step Floors 0:01:59
29 Sean Bennett (USA) Hagens Berman Axeon 0:02:01
30 Rafal Majka (Pol) Bora-Hansgrohe 0:02:04
31 Toms Skujins (Lat) Trek-Segafredo 0:02:05
32 Kasper Asgreen (Den) Quick-Step Floors 0:02:07
33 Simon Clarke (Aus) EF Education First-Drapac p/b Cannondale 0:02:12
34 Robert Britton (Can) Rally Cycling 0:02:13
35 Ian Boswell (USA) Katusha-Alpecin 0:02:26
36 Kristijan Durasek (Cro) UAE Team Emirates 0:02:35
37 Nathan Van Hooydonck (Bel) BMC Racing Team 0:02:38
38 Ben Gastauer (Lux) AG2R La Mondiale 0:02:39
39 Mathias Frank (Swi) AG2R La Mondiale 0:02:46
40 Ian Garrison (USA) Hagens Berman Axeon 0:02:54
41 Lukasz Wisniowski (Pol) Team Sky 0:02:55
42 Ivo Oliveira (Por) Hagens Berman Axeon 0:03:01
43 Alvaro Hodeg (Col) Quick-Step Floors
44 Alex Howes (USA) EF Education First-Drapac p/b Cannondale 0:03:04
45 Robin Carpenter (USA) Rally Cycling 0:03:08
46 Daniel Oss (Ita) Bora-Hansgrohe 0:03:12
47 Julien Vermote (Bel) Dimension Data 0:03:17
48 Jai Hindley (Aus) Team Sunweb
49 Peter Stetina (USA) Trek-Segafredo
50 Matteo Fabbro (Ita) Katusha-Alpecin 0:03:18
51 Luke Rowe (GBr) Team Sky 0:03:19
52 Iljo Keisse (Bel) Quick-Step Floors 0:03:22
53 Rúben Guerreiro (Por) Trek-Segafredo 0:03:24
54 Jasper Stuyven (Bel) Trek-Segafredo 0:03:28
55 Jasper Philipsen (Bel) Hagens Berman Axeon 0:03:29
56 TJ Eisenhart (USA) Holowesko-Citadel p/b Arapahoe Resources 0:03:31
57 Stijn Vandenbergh (Bel) AG2R La Mondiale 0:03:32
58 Cyril Gautier (Fra) AG2R La Mondiale
59 Nicola Conci (Ita) Trek-Segafredo
60 Peter Sagan (Svk) Bora-Hansgrohe 0:03:39
61 Benoit Cosnefroy (Fra) AG2R La Mondiale
62 Danilo Wyss (Swi) BMC Racing Team 0:03:40
63 Sebastian Henao (Col) Team Sky 0:03:44
64 Antwan Tolhoek (Ned) LottoNL-Jumbo 0:03:48
65 Maarten Wynants (Bel) LottoNL-Jumbo 0:03:52
66 Pawel Poljanski (Pol) Bora-Hansgrohe 0:03:54
67 Fernando Gaviria (Col) Quick-Step Floors
68 Edward Ravasi (Ita) UAE Team Emirates 0:03:56
69 Jhonatan Narvaez (Ecu) Quick-Step Floors 0:04:06
70 Mathew Hayman (Aus) Mitchelton-Scott 0:04:11
71 Ruben Companioni (Cub) Holowesko-Citadel p/b Arapahoe Resources 0:04:14
72 Mark Cavendish (GBr) Dimension Data 0:04:16
73 Andrei Krasilnikau (Blr) Holowesko-Citadel p/b Arapahoe Resources 0:04:17
74 Tom-Jelte Slagter (Ned) Dimension Data
75 Max Walscheid (Ger) Team Sunweb 0:04:23
76 Sven Erik Bystrøm (Nor) UAE Team Emirates
77 Rick Zabel (Ger) Katusha-Alpecin 0:04:24
78 Anass Ait El Abdia (Mar) UAE Team Emirates 0:04:26
79 Gregory Rast (Swi) Trek-Segafredo 0:04:37
80 Floris De Tier (Bel) LottoNL-Jumbo 0:04:42
81 Michael Rice (Aus) Hagens Berman Axeon 0:04:47
82 Daniel McLay (GBr) EF Education First-Drapac p/b Cannondale 0:04:51
83 Tanner Putt (USA) UnitedHealthcare Pro Cycling 0:05:02
84 Maximiliano Richeze (Arg) Quick-Step Floors 0:05:08
85 Danny Pate (USA) Rally Cycling 0:05:10
86 Roger Kluge (Ger) Mitchelton-Scott 0:05:17
87 Tyler Magner (USA) Rally Cycling 0:05:18
88 Scott Davies (GBr) Dimension Data 0:05:19
89 Jay Thomson (RSA) Dimension Data 0:05:20
90 Kiel Reijnen (USA) Trek-Segafredo
91 Lachlan Norris (Aus) UnitedHealthcare Pro Cycling 0:05:25
92 Michal Kolár (Svk) Bora-Hansgrohe 0:05:26
93 Logan Owen (USA) EF Education First-Drapac p/b Cannondale 0:05:29
94 Ian Stannard (GBr) Team Sky 0:05:30
95 Mark Renshaw (Aus) Dimension Data 0:05:32
96 John Murphy (USA) Holowesko-Citadel p/b Arapahoe Resources 0:05:34
97 Miguel Bryon (USA) Holowesko-Citadel p/b Arapahoe Resources
98 Alexander Kristoff (Nor) UAE Team Emirates 0:05:37
99 Lucas Sebastian Haedo (Arg) UnitedHealthcare Pro Cycling 0:05:38
100 Fabian Lienhard (Swi) Holowesko-Citadel p/b Arapahoe Resources 0:05:39
101 Nathan Haas (Aus) Katusha-Alpecin 0:05:40
102 Thomas Leezer (Ned) LottoNL-Jumbo 0:05:46
103 Juraj Sagan (Svk) Bora-Hansgrohe 0:05:48
104 Tom Stamsnijder (Ned) Team Sunweb 0:05:53
105 Jonathan Clarke (Aus) UnitedHealthcare Pro Cycling 0:05:55
106 Mike Teunissen (Ned) Team Sunweb 0:06:00
107 Sepp Kuss (USA) LottoNL-Jumbo 0:06:02
108 Marcel Kittel (Ger) Katusha-Alpecin 0:06:07
109 Caleb Ewan (Aus) Mitchelton-Scott 0:06:13
110 Adam De Vos (Can) Rally Cycling 0:06:20
111 Luka Mezgec (Slo) Mitchelton-Scott 0:06:31
112 Yousif Mirza Al-Hammadi (UAE) UAE Team Emirates 0:06:32
113 Lachlan Morton (Aus) Dimension Data 0:06:38
114 Johannes Fröhlinger (Ger) Team Sunweb 0:07:08
115 Travis McCabe (USA) UnitedHealthcare Pro Cycling 0:07:24
116 Oliver Naesen (Bel) AG2R La Mondiale 0:08:08
CLASSIFICA GENERALE
1 Tejay van Garderen (USA) BMC Racing Team 12:50:55
2 Egan Bernal (Col) Team Sky 0:00:23
3 Daniel Martinez (Col) EF Education First-Drapac p/b Cannondale 0:00:37
4 Tao Geoghegan Hart (GBr) Team Sky 0:00:52
5 Adam Yates (GBr) Mitchelton-Scott 0:01:07
6 Rafal Majka (Pol) Bora-Hansgrohe 0:01:29
7 Brandon McNulty (USA) Rally Cycling 0:02:08
8 Laurens De Plus (Bel) Quick-Step Floors 0:02:13
9 Kristijan Durasek (Cro) UAE Team Emirates 0:02:15
10 Brent Bookwalter (USA) BMC Racing Team 0:02:34
11 Mathias Frank (Swi) AG2R La Mondiale 0:02:36
12 William Barta (USA) Hagens Berman Axeon 0:02:56
13 Antwan Tolhoek (Ned) LottoNL-Jumbo 0:03:28
14 Rúben Guerreiro (Por) Trek-Segafredo 0:03:35
15 Sean Bennett (USA) Hagens Berman Axeon 0:03:43
16 Neilson Powless (USA) LottoNL-Jumbo 0:03:45
17 Gavin Mannion (USA) UnitedHealthcare Pro Cycling 0:03:54
18 Robert Britton (Can) Rally Cycling 0:04:21
19 Ian Boswell (USA) Katusha-Alpecin 0:04:31
20 Toms Skujins (Lat) Trek-Segafredo 0:04:36
21 Edward Ravasi (Ita) UAE Team Emirates 0:04:38
22 Peter Stetina (USA) Trek-Segafredo
23 Nicola Conci (Ita) Trek-Segafredo 0:04:39
24 Joey Rosskopf (USA) BMC Racing Team 0:05:22
25 Serghei Tvetcov (Rom) UnitedHealthcare Pro Cycling 0:05:26
26 TJ Eisenhart (USA) Holowesko-Citadel p/b Arapahoe Resources 0:05:39
27 Matteo Fabbro (Ita) Katusha-Alpecin 0:06:30
28 Pavel Sivakov (Rus) Team Sky 0:06:38
29 Jack Bauer (NZl) Mitchelton-Scott 0:07:48
30 Kasper Asgreen (Den) Quick-Step Floors 0:08:33
31 Cyril Gautier (Fra) AG2R La Mondiale 0:08:54
32 Ivo Oliveira (Por) Hagens Berman Axeon 0:09:00
33 Michael Schär (Swi) BMC Racing Team 0:09:12
34 Patrick Bevin (NZl) BMC Racing Team 0:09:50
35 Jhonatan Narvaez (Ecu) Quick-Step Floors 0:10:01
36 Anass Ait El Abdia (Mar) UAE Team Emirates 0:11:00
37 Floris De Tier (Bel) LottoNL-Jumbo 0:11:05
38 Sebastian Henao (Col) Team Sky 0:11:34
39 Andrei Krasilnikau (Blr) Holowesko-Citadel p/b Arapahoe Resources 0:11:47
40 Tom-Jelte Slagter (Ned) Dimension Data 0:11:55
41 Nils Politt (Ger) Katusha-Alpecin 0:11:58
42 Jai Hindley (Aus) Team Sunweb
43 Danilo Wyss (Swi) BMC Racing Team 0:12:09
44 Ben Gastauer (Lux) AG2R La Mondiale 0:12:24
45 Pawel Poljanski (Pol) Bora-Hansgrohe 0:12:50
46 Nikias Arndt (Ger) Team Sunweb 0:14:46
47 Lachlan Morton (Aus) Dimension Data 0:15:27
48 Oliver Naesen (Bel) AG2R La Mondiale 0:16:10
49 Alex Howes (USA) EF Education First-Drapac p/b Cannondale 0:16:38
50 Stijn Vandenbergh (Bel) AG2R La Mondiale 0:16:44
51 Sepp Kuss (USA) LottoNL-Jumbo 0:17:10
52 Julien Vermote (Bel) Dimension Data 0:18:04
53 Simon Clarke (Aus) EF Education First-Drapac p/b Cannondale 0:18:13
54 Kiel Reijnen (USA) Trek-Segafredo 0:19:27
55 Silvan Dillier (Swi) AG2R La Mondiale 0:19:29
56 Luke Rowe (GBr) Team Sky 0:19:48
57 Jay Thomson (RSA) Dimension Data 0:21:00
58 Lawson Craddock (USA) EF Education First-Drapac p/b Cannondale 0:21:01
59 Peter Sagan (Svk) Bora-Hansgrohe 0:21:15
60 Jasper Stuyven (Bel) Trek-Segafredo 0:22:12
61 Jasper Philipsen (Bel) Hagens Berman Axeon 0:22:13
62 Reto Hollenstein (Swi) Katusha-Alpecin 0:22:31
63 Maarten Wynants (Bel) LottoNL-Jumbo 0:22:37
64 Michael Hepburn (Aus) Mitchelton-Scott 0:23:26
65 Caleb Ewan (Aus) Mitchelton-Scott 0:23:43
66 Sven Erik Bystrøm (Nor) UAE Team Emirates 0:23:46
67 Alexander Kristoff (Nor) UAE Team Emirates 0:24:21
68 Fabian Lienhard (Swi) Holowesko-Citadel p/b Arapahoe Resources 0:24:23
69 Luka Mezgec (Slo) Mitchelton-Scott 0:24:44
70 Lachlan Norris (Aus) UnitedHealthcare Pro Cycling 0:24:48
71 Filippo Ganna (Ita) UAE Team Emirates 0:25:16
72 Travis McCabe (USA) UnitedHealthcare Pro Cycling 0:25:37
73 Fernando Gaviria (Col) Quick-Step Floors 0:25:55
74 Evan Huffman (USA) Rally Cycling 0:25:57
75 Maximiliano Richeze (Arg) Quick-Step Floors 0:26:21
76 Mathew Hayman (Aus) Mitchelton-Scott 0:26:22
77 Mike Teunissen (Ned) Team Sunweb 0:26:28
78 Nathan Haas (Aus) Katusha-Alpecin 0:26:30
79 Lucas Sebastian Haedo (Arg) UnitedHealthcare Pro Cycling 0:26:51
80 Lukasz Wisniowski (Pol) Team Sky 0:26:58
81 Michael Rice (Aus) Hagens Berman Axeon
82 Gregory Rast (Swi) Trek-Segafredo 0:29:11
83 Mikkel Bjerg (Den) Hagens Berman Axeon 0:29:26
84 Maciej Bodnar (Pol) Bora-Hansgrohe 0:29:30
85 Tanner Putt (USA) UnitedHealthcare Pro Cycling
86 Benoit Cosnefroy (Fra) AG2R La Mondiale 0:29:32
87 Ian Garrison (USA) Hagens Berman Axeon 0:29:33
88 Taylor Phinney (USA) EF Education First-Drapac p/b Cannondale 0:29:35
89 Scott Davies (GBr) Dimension Data 0:29:46
90 Ian Stannard (GBr) Team Sky 0:30:04
91 John Murphy (USA) Holowesko-Citadel p/b Arapahoe Resources 0:30:08
92 Thomas Leezer (Ned) LottoNL-Jumbo 0:30:20
93 Adam De Vos (Can) Rally Cycling 0:30:48
94 Yousif Mirza Al-Hammadi (UAE) UAE Team Emirates 0:31:06
95 Nathan Van Hooydonck (Bel) BMC Racing Team 0:31:11
96 Alvaro Hodeg (Col) Quick-Step Floors 0:31:33
97 Robin Carpenter (USA) Rally Cycling 0:31:37
98 Johannes Fröhlinger (Ger) Team Sunweb 0:31:42
99 Daniel Oss (Ita) Bora-Hansgrohe 0:31:45
100 Iljo Keisse (Bel) Quick-Step Floors 0:32:26
101 Max Walscheid (Ger) Team Sunweb 0:32:56
102 Rick Zabel (Ger) Katusha-Alpecin 0:32:57
103 Daniel McLay (GBr) EF Education First-Drapac p/b Cannondale 0:33:24
104 Danny Pate (USA) Rally Cycling 0:33:43
105 Tyler Magner (USA) Rally Cycling 0:33:51
106 Mark Cavendish (GBr) Dimension Data 0:33:59
107 Logan Owen (USA) EF Education First-Drapac p/b Cannondale 0:34:02
108 Roger Kluge (Ger) Mitchelton-Scott 0:34:06
109 Miguel Bryon (USA) Holowesko-Citadel p/b Arapahoe Resources 0:34:07
110 Jonathan Clarke (Aus) UnitedHealthcare Pro Cycling 0:34:26
111 Mark Renshaw (Aus) Dimension Data 0:35:02
112 Ruben Companioni (Cub) Holowesko-Citadel p/b Arapahoe Resources 0:35:08
113 Tom Stamsnijder (Ned) Team Sunweb 0:35:38
114 Marcel Kittel (Ger) Katusha-Alpecin 0:36:31
115 Michal Kolár (Svk) Bora-Hansgrohe 0:43:56
116 Juraj Sagan (Svk) Bora-Hansgrohe 0:47:42